Our History
SACBC was established on May 26, 1961 and became independent from the Alameda Buddhist Temple on April 8, 1965. As a member of the Buddhist Churches of America, which has its headquarters in nearby San Francisco, we are part of the Jodo Shinshu branch, or what is also known as the Pure Land sect.
Services were held in homes, a grammar school and a hall in Fremont until the purchase of 3.5 acres in Union City on April 24, 1961. The temple was first built in the early 1960's and classrooms were soon constructed next to the hondo in 1965. A shrine was donated by the Oxnard Buddhist Temple in March of 1967. Then, in the 1970's the minister's residence and Sangha Hall were built.
Affiliated and Associate organizations established includes: Japanese Language School (1964), Fujinkai/Buddhist Women's Association (1965), Jr. YBA (1965), Dharma School (1965) Choir (1970), YABA (1994), Boy Scouts and O' Nami Taiko group (1997).
In October of 2002, the Church celebrated 40 years in its current location in Union City, CA.
On Sept. 23, 2012, SACBC celebrated its 50th Anniversary.
The public is always welcomed to attend weekly Dharma Family Services held in English, led by Rev. Doei Fujii, Sunday mornings at 10:00 a.m. with Dharma School (Children K-12) and Cafe Dharma (Adult Discussion) immediately following the service.
The Church holds two major fund-raising events per year: Annual Japanese Food Bazaar in July and our Obon Festival is held in August.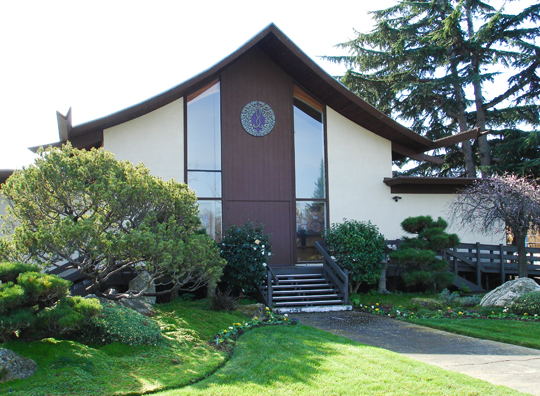 Our Minister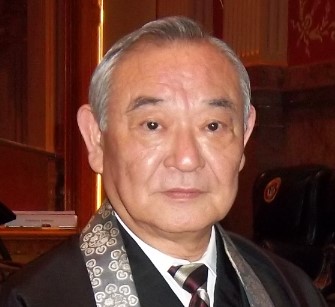 Rev. Doei Fujii is our new SACBC Resident Minister.  He was recently assigned at Tri-State Denver where he was the head minister for the past 8 years.  Previously, he served at various temples in Washington for 14 years and Southern California for 14 years.
He is originally from Sado Island in Japan and worked at a computer company in Tokyo before becoming a minister and moving to the US. He has an educational background in Economics and Jodo Shinshu Buddhism in Japan as well as Psychology and Sociology in the US. He is fluent in both Japanese and English. He is 68 years old and married to his very active wife Michiko. He has a married son who is an actuary in Tokyo and a single daughter who is an environmental engineer in LA.  He also has a dog who he adopted while he was in LA.
He is very knowledgeable about Jodo Shinshu Buddhism and has devoted his life to sharing the teachings of Amida.  He would like the opportunity to do so in the Bay Area and serve our church before eventually retiring to Southern California.
SACBC Sangha welcomed Rev. and Mrs. Doei Fujii to our temple in May 2019.